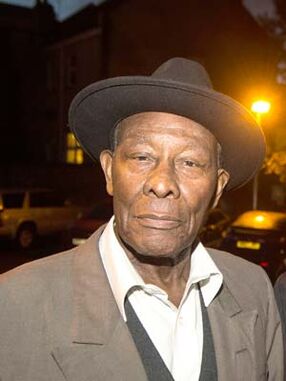 This person is on display in the Contributing Wrap, he is also mentioned in the Bristol Bus Boycott display in the Challenging section in the People Gallery.
(1928 - )
Roy was born in Jamaica and travelled to England to find work in 1952.  He first settled in Toxteth, Liverpool, which had a large African-Caribbean community, and then worked across the country including the atomic power station at Hinkley Point, near Bridgewater in 1957.  He also worked for St. Anne's Board Mil, Bristol, where he became the foreman of 52 white employees, which was unusual for the time.
When Roy moved to Bristol, he faced overt racism when looking for accommodation.  He met signs on the windows of houses with rooms to rent stating "No Blacks, No Gipsies, No Irish and No Dogs" and owners would frequently slam doors in his face. Eventually, Roy found a room to rent St. Paul's before his sweetheart joined him from Jamaica in 1958 and they married in 1959.
Roy was a founder member of the Commonwealth Co-ordinated Committee (CCC), later renamed West Indian West Indian Parents' and Friends' Association (WIPFA), which was set up to voice concerns to local authorities and to create a network of support.  The association has had many successes over the years including the setting up and running of the of the St. Paul's Carnival (originally known as the St Paul's Festival) which has become one of the biggest events in Bristol's cultural calendar.
Roy was a leading organiser of the 1963 Bristol Bus Boycott, a successful black led campaign to overturn the bar to the employment of Black and Asian bus drivers and conductors by the Bristol Omnibus company. With the support of local MP and cabinet minister Tony Benn, the campaign paved the way for the Race Relations Act of 1965.
Roy was also the oldest member of the Bristol Race Equality Council (1965 -2005), which was the first of its kind in the country.  He chaired the committee of the legendary Bamboo Club, which hosted international music artistes like 'Bob Marley and the Wailers' and Jimmy Cliff.
Roy is still very active as a volunteer in Bristol including membership of the St Werburgh's Community Centre management group. The Jamaican High Commissioner awarded him for his outstanding contribution to his community and in 1993 he received Maundy Money from the Queen at Bristol Cathedral.
Community content is available under
CC-BY-SA
unless otherwise noted.